SPONGES
What are these?
Advanced formula that contains a blend of water, detergents, wetting agents and natural ingredients. They are a non-toxic, natural and biodegradable product. Contain: water, cellulosic particles,
1-methoxy-2- propanol. Unique technology that deep cleans by dissolving, trapping and absorbing dirt. Safe for people, pets, carpet and environment.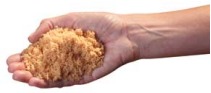 MICRO-SPLITTING PRE SPRAY
What is this?
Micro-splitters work on contact at a micro molecular level and quite literally shatter the bond that holds soil to fibres. The soil particles are released and can be removed with sponges. In fact, micro-splitters can be safely used on all fabrics and do not contain residues that can become sticky or promote rapid re-soiling.
While soaps, detergents and shampoos have long been a staple of traditional carpet cleaning methods, each leaves behind significant residues causing many related problems. In particular, these residues rapidly attract new soils, mat the carpet yarn, dull colour and texture, increase wear and tear and ultimately cause premature and expensive replacement of the carpet itself. Given these results, it is not surprising that many homeowners simply delay carpet cleaning as long as possible in an effort to extend the life and appearance of their carpets.
The unique cleaning process is achieved by 'MICROSPLITTING' the soil particles. Micro-splitters are a recent development to the carpet cleaning industry. The term micro-splitting is used to describe the way these solutions work. When applied to carpets and upholstery the solutions break the bond between the dirt and fibres, this is achieved by micro-splitting the soil particles without the use of enzymes, detergents or soaps.
Microsplitters contain no bleaching or optical brighteners but more importantly they are non re-soiling therefore they will not leave any sticky shampoo or detergent residues in your carpet. They will also not adversely affect any factory protected (Scotchgard, Teflon,etc.) or anti static treated carpets.

Do we remove all the stains?
We always carry a large array of chemicals & boosters to deal with all stubborn stains. Although we cannot guarantee any stain removal, we are very successful with full removal of many spots and stains. Irremovable stains are always treated to the best advantage.