CARPET MAINTENANCE PROGRAMME
A well planned, regular maintenance schedule should be considered as an essential part of the initial carpet specification and the maintenance programme should be formulated well in advance, so it is ready to go into effect on the day the carpet is installed.

Carpet maintenance plan takes into account the sources and types of soil along with their distribution on the carpet. The goal of planned maintenance is always the same: to preserve the appearance, extend the wear life of the carpet and improve the quality of the indoor air within the working environment.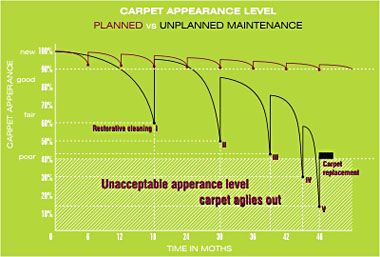 Please note
It is impossible to bring carpet back to original appearance with restorative cleaning and that the older the carpet gets the more often restorative cleaning is needed.
With restorative cleaning it is necessary to use stronger alkaline chemicals which leave sticky residue contributing to quicker resoiling and reducing life time of the carpet.
Premature carpet replacement usually happens in venues that were choosing carpet cleaning company based on low price of the service. Very often that means cleaning process performed with not effective equipment, not according to industry specification, misuse of the chemicals and leaving carpets at PH above 7 which is contributing to attracting sticky deposits.
Too many facilities adopt a rule that says, 'clean when dirty'. Our experience tells us that this could be a recipe for disaster; carpet will look progressively worse unless a regular programme is instituted.

Studies show that 80% or so of the soil in carpets is dry. This is either tracked in soil or air borne soil that has dropped onto the carpet. As carpet is three-dimensional this soil will migrate down to the bottom of the carpet pile. As soiling builds up the soiling becomes visible and becomes a source for further soiling throughout the facility.

Why Dry Extraction? Simply because Dry Extraction cleaning means that when we have finished the cleaning process the carpet is ready for service immediately.

It 's an interconnected system that involves the vacuuming and extraction of dry soil all the way down to the carpet backing. Having completed this process then the areas that have other types of soil can be attacked. By other soil we mean the soil that is bonded to the fibers of the carpet, generally called sticky soil. These bonds can be loosened by the application of pre spray and a mixture of water and mild solvent called dry compound and then brushing this mixture around the carpet fibers.

The key point is that this liquid mixture is applied in just the right quantity in a cellulosic base that acts just like a sponge. The water and solvent break up the sticky soils. The sponge traps and absorbs these soils. Carpets don't get over wet, shrink or suffer from seam splitting. The soiled sponges are easily removed by the integrated vacuum system.

The result is clean dry carpet that is back in use immediately. Your expensive asset will look great and will last much, much longer.

How will we implement your Preventive Carpet Care Maintenance Plan?
We will inspect your facility.
Prepare detailed, customized plan of carpet maintenance plan.
Advice you on extra steps needed in order to run carpet maintenance plan successfully.

Take proper actions to maintain required carpet appearance as soon as possible.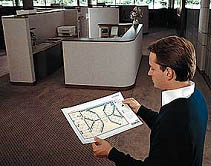 So if you are
Individual retailer
Retail chain
Department Store
Hotel
Leisure complex
Government Institution
Educational Establishment
Or if you are a managing agent
Book appointment to discuss your needs and present solution to carpet related problems.
For more information or assistance in developing a carpet maintenance plan for your facility, contact AQC Carpet Care Consultant.